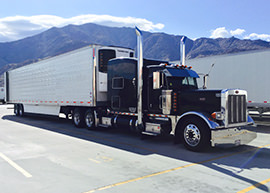 Western AG understands that your transportation needs are specific and unique, which is why aside from our standard refrigerated trucking services, we also offer dedicated trucking solutions that can be customized to your ever changing business needs.
With our dedicated trucking services, we will help you every step of the way in order to give you the promptest, most efficient, and most economical transportation that the industry has to offer.
As one of the leading trucking companies in California, we can accommodate your customized requirements without hesitation. Simply call us today at 530-713-7901 to learn more about our services and to get your free quote.
Our Dedicated Trucking Services
In today's economy, it can be challenging, not to mention expensive, to handle your transportation and logistical needs in house, especially if your business offers time sensitive products or if it is seasonal in nature. Outsourcing these tasks to a reliable and efficient company such as Western AG could prove to be the ultimate solution, as we provide turnkey, cost effective dedicated trucking solutions to help you resolve the logistical issues in your business.
We offer dedicated trucking services for routes from CA, OR, WA, ID, NV, AZ, UT, TX, NE, and IA. Currently, we are looking to build long lasting business relationships with customers who can give us year round freight within this route. By partnering with us, you will have access to a fleet of dedicated trucks, minus the operational headaches that come with procuring your own private fleet.
Hiring us as your dedicated transportation company gives you flexibility to scale your operations depending on the current demand for your products, while at the same time giving you the freedom, reliability, and control that you would expect from operating a private fleet. As a result, you benefit from reduced operational costs as well as the ability to focus on your core competencies and make the necessary adjustments during peak and off peak seasons. Being prepared for any eventualities when it comes to volume fluctuations can be difficult to manage, but by relying on a partner such as Western AG, you will know that your business is in good hands.
When you choose to hire us for your dedicated trucking needs, you get access to a fleet of sophisticated trucks, a team of professional and skilled drivers, and an ever present 24/7 customer support team. Our trucks and drivers provide timely and dependable services at competitive rates, and rest assured that we will deliver your goods according to your specific instructions.
Hire Us for Your Dedicated Trucking Needs
Now is the best time to hire Western AG for your dedicated trucking needs. By hiring us, not only are you mitigating risks for your business, you are also gaining a competitive advantage among your competitors by having reliable and dependable dedicated trucking when you need it.
Treating each client and driver like family sets our company apart and makes us one of the leading trucking companies in California. For more information on our services, please call us today to get a free quote.